The apartments Brüscia are comfortable and functional rooms that are equipped with amenities to make your holiday relaxing and away from the hustle and bustle of everyday life. They are decorated in a traditional Ladin/Tyrolean style and are equipped with bathrooms, dishes, linen, color TV and can accommodate from two to five people.
The apartment-house Brüscia is surrounded by a large garden where you can enjoy barbecues in the summer, and offers itself as an ideal open-air solarium on sunny winter days.
In addition, we offer our customers a large car park and a ski storage room to ensure maximum safety and peace of mind during your stay.
A Sass dla Crusc | 45 m2
Summer 2017
17/06
21/07
22/07
04/08
05/08
18/08
19/08
25/08
26/08
22/09
23/09
30/09
3 people
only overnight accomodation
100.00
100.00
120.00
100.00
100.00
100.00
4 people
only overnight accomodation
130.00
140.00
140.00
130.00
120.00
120.00
5 people
only overnight accomodation
140.00
140.00
150.00
140.00
140.00
140.00
full price list
Winter 2016 - 2017
01/12
23/12
24/12
06/01
07/01
27/01
28/01
10/03
11/03
24/03
25/03
02/04
3 people
only overnight accomodation
107.00
135.00
120.00
120.00
120.00
107.00
4 people
only overnight accomodation
145.00
200.00
145.00
165.00
140.00
140.00
5 people
only overnight accomodation
150.00
200.00
165.00
170.00
160.00
150.00
full price list
B1 Lavarella | 35 m2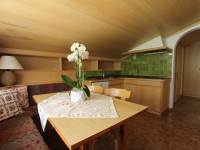 Summer 2017
17/06
21/07
22/07
04/08
05/08
18/08
19/08
25/08
26/08
22/09
23/09
30/09
2 people
only overnight accomodation
70.00
80.00
90.00
80.00
80.00
70.00
3 people
only overnight accomodation
90.00
100.00
100.00
90.00
90.00
90.00
4 people
only overnight accomodation
110.00
110.00
120.00
110.00
110.00
110.00
full price list
Winter 2016 - 2017
01/12
23/12
24/12
06/01
07/01
27/01
28/01
10/03
11/03
24/03
25/03
02/04
2 people
only overnight accomodation
90.00
110.00
90.00
90.00
80.00
80.00
3 people
only overnight accomodation
90.00
110.00
100.00
110.00
110.00
90.00
4 people
only overnight accomodation
110.00
130.00
110.00
120.00
120.00
110.00
full price list
B2 Gardenaccia | 40 m2
Summer 2017
17/06
21/07
22/07
04/08
05/08
18/08
19/08
25/08
26/08
22/09
23/09
30/09
2 people
only overnight accomodation
80.00
80.00
90.00
80.00
80.00
80.00
3 people
only overnight accomodation
90.00
90.00
110.00
100.00
90.00
90.00
4 people
only overnight accomodation
120.00
120.00
140.00
120.00
120.00
110.00
full price list
Winter 2016 - 2017
01/12
23/12
24/12
06/01
07/01
27/01
28/01
10/03
11/03
24/03
25/03
02/04
2 people
only overnight accomodation
90.00
110.00
100.00
110.00
110.00
90.00
3 people
only overnight accomodation
105.00
120.00
105.00
120.00
110.00
110.00
4 people
only overnight accomodation
110.00
140.00
120.00
130.00
120.00
110.00
full price list
| | | | |
| --- | --- | --- | --- |
| Typology | A Sass dla Crusc | B1 Lavarella | B2 Gardenaccia |
| Minimum occupation | 3 | 2 | 2 |
| Maximal occupation | 5 | 4 | 4 |
| Beds | 4 | 3 | 3 |
| Floor | 1° | 1° | 1° |
| Habitable surface m² | 45 | 35 | 40 |
| Rooms | 2 | 1 | 1 |
| Balcony | yes | yes | yes |
| View | east | south-east | west |
| Bath with shower | yes | no | yes |
| Bath with tub | no | yes | no |
| Two bathrooms | yes | no | no |
| Hairdryer | yes | yes | yes |
| Kitchen with living room | yes | yes | yes |
| Fridge | yes | yes | yes |
| Dischwasher | yes | no | no |
| Satellite TV | yes | yes | yes |
| Safe | yes | yes | yes |
| Free WI-FI | yes | yes | yes |
| Ski room with ski boot warmer | yes | yes | yes |
| Distance from the slopes | 1 km | 1 km | 1 km |
| Distance from the center of the village | 1,5 km | 1,5 km | 1,5 km |
| Pets | yes | yes | yes |